Lea Dilallo was a patient in episode 6×10 Quiet and Loud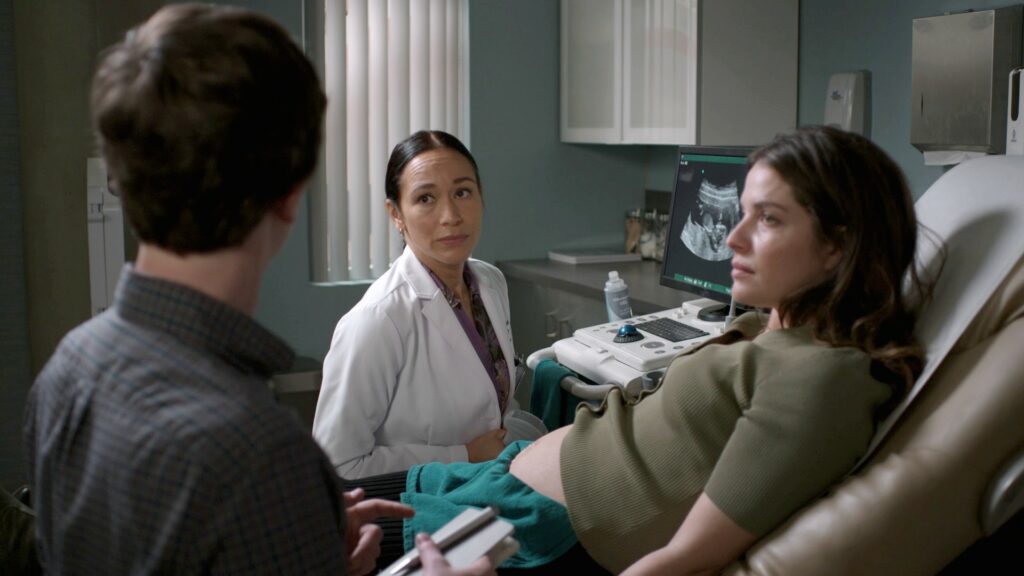 Treating physicians:
Aaron Glassman, Audrey Lim, Asher Wolke
Diagnosis:
Second trimester pregnancy with thinning of the uterine wall and danger of uterine rupture
Case notes:
Earlier in the season during a routine checkup with her OB-GYN (6×07 Boys Don't Cry), Lea was diagnosed with Asherman's syndrome as a complication of the foetoscopic surgery of their first unsuccessful pregnancy a year ago (4×16 Dr. Ted).
Asherman's is a relatively frequent occurrence in patients who had a D&C where scar tissue forms inside the uterus and can lead to adhesions of the uterine wall. This can result in pelvic pain or menstrual changes or, in extreme cases, infertility. Shaun and Lea were told at the time to avoid becoming pregnant for at least another year to minimise risk to both Lea and the baby and then reevaluate.
At the end of episode 6×09 Broken Or Not, Lea found out that she was (again) unexpectedly pregnant. She and Shaun decided to hope for the best and that Lea could carry the pregnancy to term.
In episode 6×10 Quiet and Loud, during a routine OB-GYN appointment to monitor Lea's pregnancy that had progressed into the second trimester, Dr. Winkler found that one side of Lea's uterine wall showed thinning that could result in a uterine rupture and loss of the baby if it progressed further.
In order to try and keep the uterine wall from rupturing, Shaun suggested an experimental procedure to Glassman and Lim to reinforce the wall with expanding collagen fleece. The surgery was risky with potential for serious complications, but Shaun had studied the technique and would teach Lim and Glassman. Shaun was concerned because waiting until Lea's uterus was going to rupture would most definitely not be a good outcome.
Lea agreed to the surgery, which they then performed with Shaun present but not actively involved beyond giving verbal guidance. Despite a small bleed during the procedure, it went well.
During the post-op recovery process, Lea started feeling nauseous, which prompted Shaun to perform an ultrasound that detected increased fluid in the abdomen. Lea lost consciousness which suggested internal bleeding, so Shaun had her wheeled into the OR for emergency surgery.
Glassman and Lim opened Lea up and tried to locate the source of the bleeding, which was hard to locate. They were ready to remove Lea's uterus and terminate the pregnancy along with it, when they realised that Lea's left uterine artery was tethered to scar tissue, and as the uterus grew, it ruptured.
Glassman and Lim managed to repair the damage and stop the bleeding, saving both Lea and the baby's life. Lea recovered well from the surgery and was later released from the hospital without complications.